Site Klein Haddorf
Furniture, object furnishings and yacht interior equipment have been built here since 1947.
Always with a view to meeting the highest demands of many different customers, always at the latest state of the art.
Bilk 73 (Werk imi-beton)
48493 Wettringen
Phone: +49 (0) 25 57 – 93 77-40
Fax: +49 (0) 25 57 – 93 77-49
E-Mail: info(at)imi-beton.com
Are you looking for the right contact for innovative products?
Then this is the right place for you.
imi-beton - patented composite material
Headquartered in Wettringen, Klein-Haddorf, since 1947, the company has consistently developed into a special operator for objects, furnishings and furniture. Modern machinery and the correspondingly trained specialists warrant timely performance with high craftsmanship.
In 2000, the company first presented a new innovative coating procedure for surfaces: imi-beton. Over the course of the years, the patented procedure was developed further and the product range increased. Since 2007 unique versions of imi products have been produced every day in Bilk, securely packed and arranged for shipping around the globe.
imi products have diverse uses:
High-quality object developments and extraordinary living ideas are produced in close cooperation with planners and architects. imi-products are found in trade fair and shop construction, in kitchens and bathrooms, hotels and restaurants and everywhere where quality and innovation create a new living feeling. imi is in high demand in ship construction or for gardens and parks as well, since it is a resilient light-weight composite material. From small details such as profiles or logos, to complete facades, imi characterizes the distinctive look of every object. High-quality one-of-a-kind pieces in the furniture area set visual accents and add a perfect harmony to every overall concept.
Sketches, 3D-illustrations, material and colour patterns enable any architect and planner to plan his dream to the latest detail and then have it performed precisely.
H. Schubert GmbH offers qualified services from consulting to concept to perfect craftsmanship as a modern medium-sized business.
For more information on the company H. Schubert GmbH, kindly refer to www.h-schubert.de
1947 Founding of the carpentry by Hermann Schubert
In 1947, the company founder Hermann Schubert, who came from Silesia, set up a carpentry workshop at the current location in Klein Haddorf, which was initially mainly focused on the production of high-quality kitchens for businesses, school kitchens and also for private households. The grandfather of the current company owner, Peter Schubert, was also already making his own boards at that time. A suitable press was purchased for the workshop soon after the war.
1982 Transfer of the operation to Siegfried Schubert
In the early 1980s, the industry entered kitchen production on a large scale, displacing many crafts operations from their traditional field. Siegfried Schubert set the tracks soon enough towards high-quality interior design, own furniture production and supply for other carpentries. Even then, new machines adjusted to the indicating demands were being used. Computers and CNC systems were established in production early on. The proportion of in-house assembly work decreased, but the quality of the orders became higher and higher.
2000 Development of the "imi-beton" product
The customer's need for setting up a store at the Kö in Düsseldorf triggered the development of "imi-beton". The task was to create a material with a concrete look that could be processed with conventional carpentry tools. As no such products were available at the time, Peter Schubert decided to develop a suitable material himself. Peter Schubert thus added new boost to the old family tradition of own board production. In 2003, Schubert's "imi-beton" won the "Interzum Award" for high product quality.
2007 New construction of the production site in Bilk
The initial production with simple mixers and a single board formwork look has now turned into a complete production site that draws attention with its state-of-the-art machines and various innovative further developments. In addition to the further development of the concrete surfaces with the exposed concrete version imi-beton smooth formwork, the product range now also includes imi-rust and imi-old timber.
Product versions for many different applications complete the offer: imi-plus, the sealed surface for kitchen and bathroom, or imi-outdoor for outdoor objects. There is more to these boards than corners and edges: imi-flex also offers bevels and curves, and even floorings can be refined with imi-beton perfectly.
2011 Development of a sales network with trade partners
Composite boards with designed surfaces from carpenters for carpenters. In 2011, H. Schubert GmbH established a comprehensive network of sales partners in Germany. imi-materials are in stock in approx. 40 sites. Carpenters can now be advised by their specialist dealer and also supply smaller projects right from the warehouse.
This dealer concept was implemented for the neighbouring European countries in the following years, and slowly developed to global scale by now. Try finding the dealer near you: Dealer search.
2015 Expansion of the production area to 8000 sqm
Demand for innovative materials for high-quality interior design and in particular for trade fair and store design is increasing continually, this also includes the demand for imi-materials. After the 2nd hall was built in 2011 to expand production capacities, H. Schubert GmbH expanded again in 2015 to enlarge its production area to approx. 8000 sqm. Development of a special export board for shipping to overseas locations was imi's recent reaction to the increasing demand from the American and Asian area. Peter Schubert and his "imi-team" continue to prepare for the future with continuous development of new surfaces and product versions. The continually growing team always keeps an eye on the pulse of the industry. Find your contacts here.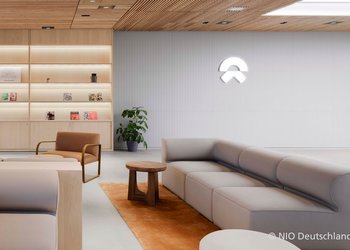 imi surface design liefert individuelle Lösungen
Mit dem Ladenbaukonzept für die Marke Nio, einem internationalen Hersteller für intelligente Elektrofahrzeuge, ist dem Planungsbüro genau diese Symbiose gelungen. Die großzügig geplanten Nio Houses,…
weiterlesen
Would you like to read more news? Then continue here for the complete overview.
Would you like to make a career with H. Schubert GmbH?
No problem. Take a look around in our career section and get an overview of current vacancies in our company.